Hope Ministries
Play Scape
For Hope Kids

Hope Ministries has served the South Bend community for over 60 years. Starting in 1954, we had a mission to shelter feed and minister to homeless men. Within a year Hope began serving women and their families. Since, we have strived to continually provide the best care and healing that we can for those who live with us.

Our Hope4Kids program has provided every young child who lives with us a safe and invaluable place to learn and grow as individuals. We work hard every day to provide these kids with a healthy and happy lifestyle. This is why we have decided to raise money to build a 2,600 square foot natural playground in our northern parking lot.

We have the plan, we have the location, but we need your assistance.

Commemorative Bricks

This playscape means so much to our children and their families and we would not be able to make this happen without your gracious support.


Hope is happy to announce that the playscape will have an area for commemorative bricks. You can name a brick in honor of a loved one, your company, or with a meaningful message.

If you decide to take part, please email us at hopeministriessouthbend@gmail.com after you have made your donation for more information.

A donation of $250 allows you to commemorate a 4 x 8 inch brick with a message of your choice. The brick size of this limits the length of your message to 3 lines of 15 characters each, for a total of 45 characters.

A donation of $500 or more allows you to commemorate an 8 x 8 inch brick with a message of your choice. The brick size of this limits the length of your message to 5 lines of 15 characters each, for a total of 75 characters.

The Plan

Hope Ministries of South Bend works to engage people in intensive relationships to help them heal and foster long term relationships helping them thrive. We help those who are at a point of suffering in their life due to substance abuse, homelessness, or extreme poverty. We are on a mission to raise $60,000 for a natural Play Scape for the children that live under their care.

Hope Ministries provides healing, shelter, nourishment, and education through the eyes of God, specifically for those who need their help. The children of the Hope residents are some of the people who need yours and Hope's help. Every non-holiday day of the year, our children attend school while their parents are taking part in our healing services. They spend all day, every day, inside our building.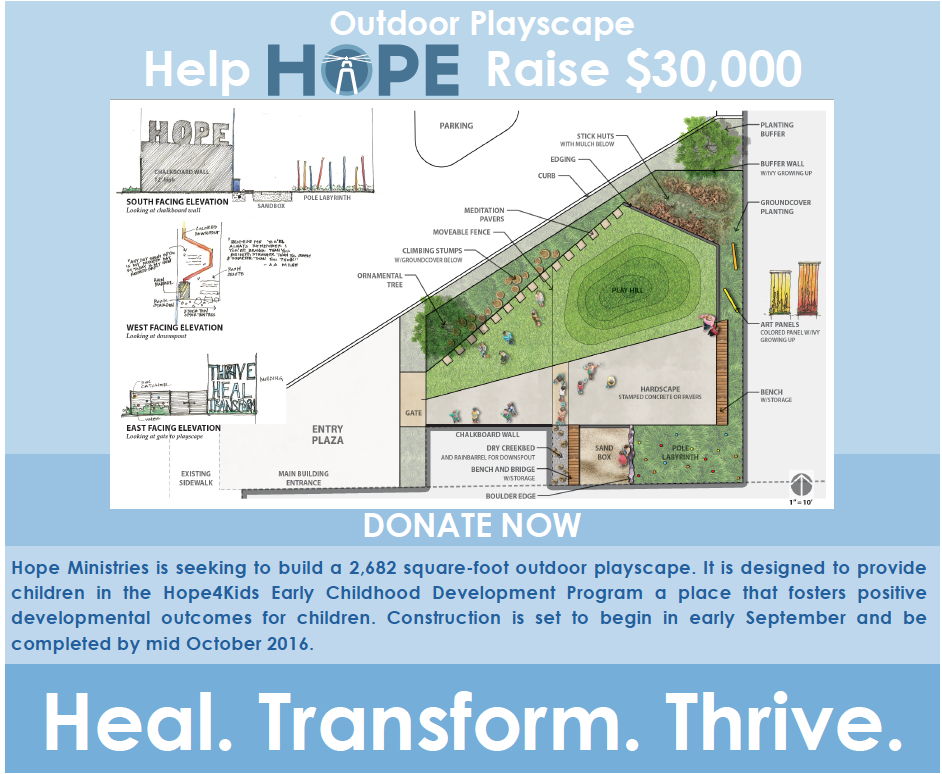 Research shows that kids who have time to spend outside and interact with nature show significant developmental improvements. As we hope to give these kids a boost to help them break the cycle of homelessness and substance abuse, a natural environment is pivotal to their success.

They do not have a safe environment to spend time and energy outside, and to learn about the earth. We have the designs ready, and the construction company on the line, waiting only on this campaign for the go ahead.

The Location

The northern parking lot of our building on Monroe and Lafayette will be partially torn up, and replaced with grass, trees, and other natural objects. 2,600 square feet will be donated for the Playscape to be used as a safe, enclosed, natural environment for our Kids and parents to spend outside.

Your Assistance

We need $60,000 to complete this project for our kids and families here at Hope Ministries. Already, we have received a generous $30,000 matching grant.

This means that every one dollar ($1) that you donate, another one dollar ($1) will be matched!

Please help us as we prepare to take our ministry to those in our care to the next level.

Thank you for helping us, and our kids reach their dreams.