Dear pro-lifers & social conservatives,
CLC needs your help!
We want to send the largest possible Campaign Life delegation to the 2018 Conservative Party of Canada (CPC) convention in Halifax, from August 23-25, 2018.
A powerful pro-life presence is absolutely necessary at this biennial policy convention to educate and coordinate delegates to so that they vote in support of crucial policies that will be debated.
There will be policies debated that are pro-life-and-family, pro-free speech, and which seek to protect our religious freedom rights that, as you know, are under relentless assault by Canada's radical left.
By sending a large CLC delegation to the convention, we can help ensure that these policies have majority support and ultimately, become official Conservative Party policy.
CLC DELIVERS PROVEN RESULTS
At the CPC's previous convention in Vancouver two years ago, we succeeded in helping pass the first-ever, explicit condemnation of abortion in the party's history. As a result of CLC's work, opposition to sex-selective abortion is today, in 2018, the official policy of the Conservative Party.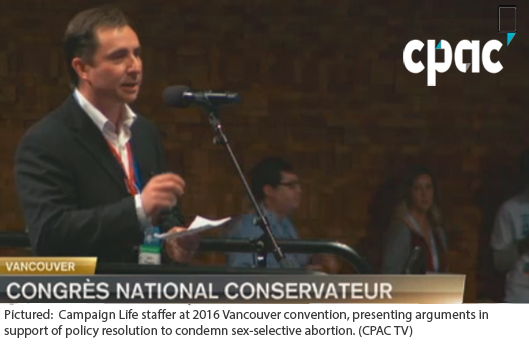 In Vancouver, we also helped pass a Conscience Rights policy which established that Conservatives support the right of health care workers to refuse to participate in, or refer patients, for abortion and euthanasia. That's now official policy, thanks in large part to our presence at Convention.
2018: A YEAR FOR PRO-LIFE SUCCESS?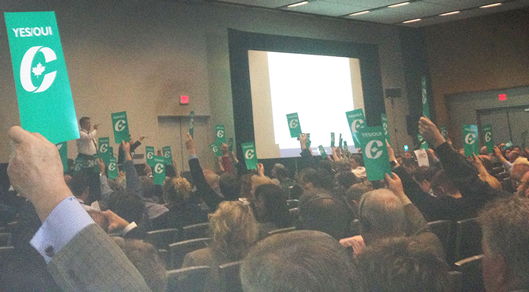 We want to score more policy victories 2018, but need your financial support. We hope to purchase a great exhibit booth, and rent space as an exhibitor in the convention hall to show the party that pro-lifers are not going away.

The cost of airfare, hotels, meals, meeting rooms, etc for the team of CLC staff and volunteers will be very expensive. At this moment, we just don't have the money to pay for it all.
Please support this important cause, to advance pro-life, pro-family and pro-faith values in the Conservative Party of Canada. Any donation amount will go a long way.
Sincerely,
The Campaign Life Coalition Team