PUT A PRO-LIFE TRUCK ON THE ROAD --
Before the "March for Choice" on Saturday, Sept 30th.

The 6th Annual "March for Choice" takes place in Dublin on Saturday the 30th of September 2017. Abortion supporters need to know that we will expose their "pro-choice" rhetoric wherever they attempt to promote abortion.
Abortion-choice advocates are panic–stricken by the fear that "choice" will be unmasked as an act of violence which kills a baby. Fear can be a sign of intelligence and in this case they are smart to be afraid. These pictures are the abortion industry's worst nightmare and things are about to get a whole lot worse for them -- with your help.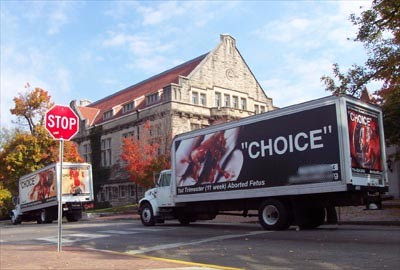 Large images of abortion on the sides and back of a truck or van will amplify and expedite our strategy of unmasking "reproductive choice" as violence against babies and women. Nothing will frustrate their efforts of deceiving the public more as announcing there will be a truck with graphic abortion imagery present at their "abortion rally". Each high-resolution sign on the truck will be designed to juxtapose the reality of abortion (picture) with its abstraction ("choice"). Since abortion advocates love to talk about "choice", it is time for people to see what that "choice" does to unborn children. Will you help us achieve this goal and donate today?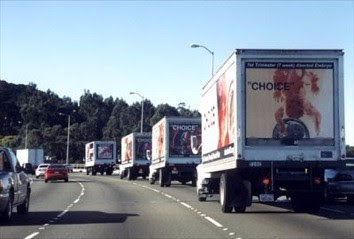 Unfortunately, virtually every TV station, newspaper, and magazine in Ireland blanketly refuses to show this country what abortion actually does. As such, ICBR is prepared to pour great energies into finding ways around these media gatekeepers. The Irish roadway will become our chief venue, and though we may not be popular, we will be effective. ICBR is not out to win a PR battle, but we are out to change the way people perceive abortion. And these images do precisely that. We want people to become more bothered by this massive and hidden injustice, even if we are despised in the process.

Help us get a truck on the road before the upcoming "March for Choice" and we will show people what "abortion rights" really looks like.