Institute of Faith, Family and Workspace ©

"Serving, Protecting and Promoting the Dignity of Every Single Human Person's Personhood."

In Obedience to the Catholic Church let's be Drawn To The Truth ©
What Is Our Big Hairy Audacious Goal?
One Soul at a time be Drawn to the Truth, with hopes of one million by 2030.

We serve, protect and promote the dignity of every single human person's personhood through applying Catholic Social Doctrine, Works of Mercy, and Divine Will within Faith, Family and Workspace as Missionaries of the Family Life and Workspace Missionaries in obedience to the Catholic Church Ritual.
Serving one soul at a time to be Drawn To The Truth through applying Catholic Social Doctrine, Works of Mercy, and Divine Will.
What Is Our Future Legacy?
1. Increase church attendance and reception of Sacraments/Mysteries.
2. Increase tithe, alms-giving, and fasting within church community.
3. Increase church community volunteerism and family life.
4. Serve, protect and promote human person's personhood where there is a gap.
5. Increase usage of the principles of social doctrine within faith, family and workspace.
6. Serve, protect and promote human person's personhood in faith, family and workspace.
7. Live out missionary life to serve in God's Will and not with a program concept.

1. We meet within contracted companies to serve as Workspace Missionaries to their staff.
2. We meet within family settings to serve as Missionaries of the Family Life.
3. We partnership within local faithful community in obedience to the Catholic Church Ritual.
Using modern media and technology to promote along with stages.
This present fundraiser is to pay for all the necessities of formally paying for the start-up fees to create a non-profit "
Institute of Faith, Family and Workspace"
©
- $3000 to pay for someone to write-up all formal non-profit 501c3 paperwork and pay initial fees
- $2000 to pay for training to develop a non-profit platform and to get $120,000 annual grant
- $2000 for any legal, accounting or technical start-up fees necessary to get started
As well, the founding of the first official mission home and supporting first mission family...
Please support our Movement, Institute of Faith, Family and Workspace with $1, $5, $10, $35, $50, $75, $100 or more... plus $1 processing fee.
PLEASE Consider MONTHLY financial gifts to long-term support our mission work. The first charge will be made immediately and the next recurring contribution will be charged to your credit card.You may cancel at any time.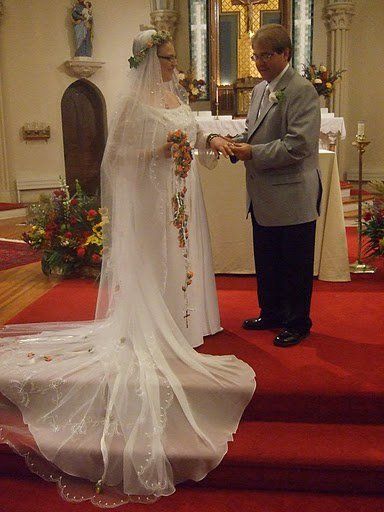 Who Are They and What Is Our Story?
Anna and Bobby La londe met in Emmanuel Christian Retreat Center serving x-felons and x-addicts.
Their meeting was Love At First Flight © because everyone was setting them up and they were not interested, that is until God ordained the pastor to invite each of them to speak.
It was in those two Sunday events that they suddenly were floored by one another's life journey, and how both were so devoted to serving God through the Works of Mercy and God's Will after their life journey returned them to a convicted walk with Christ.
Their courtship relationship was born in the city of Bethlehem and within five months they became inseparable.

Anna and Bobby were so much alike, that not only were they of the same faith, they were the same height, had same color of hair, hand size and personality but just 19 years apart in age.
When Anna was a little girl, all she could vision was her life serving as a missionary.
When Bobby was young, all he could see was his life as a pastor.
Yet, their life separately was a journey of Works of Mercy and God's Will serving others.
That is until they met, and their life entwined after five months as one unit of serving others through Works of Mercy and God's Will through ten years of marriage.
It began with their engagement when she told him to feed the poor instead of buying her a new engagement ring.
Then they chose on their wedding day to serve their guests dinner plates instead of being served as a sign of living out a Missionary life serving God's Works of Mercy and Providence.
Who They Served In 10 Years Of Marriage?
Without an official non-profit status they stepped out and helped...
- prevented abortions and offered adoption or support

- guided addicts to quit and return / come to God
- helped marriages become stronger
- fostered 100 plus kids
- prayed healing prayers over 1000's of strangers
- advocated parental rights
- assisted poor in building businesses
- collect household goods airing on FOX News for flood victims
- prevented foster children from forced birth control and abortions
- helped Catholics return to their faith who fell away
They founded the local chapter of St. Paul Street Evangelization as the first married couple leadership team.
https://streetevangelization.com/conyers (Do Not Give Here as this is a separate organization not associated with this fundraiser.)
What Is God's Future Movement For Families?
In 2020, we feel God is asking us to step out and formally develop a structure of our life that can spread into other families.
Daily Liturgy/Mass with the Family
Daily Prayer, Fasting and Alms-Giving

Simplicity of Living
Trusting in God's Providence and Will
Serving God's Works of Mercy
Living Out Social Doctrine
To see Missionaries... lay, religious, deacons, priests serving in faith, family and workspace as an ecclesiastical community under Catholic Church Obedience.
Please support our Movement, Institute of Faith, Family and Workspace with $1, $5, $10, $35, $50, $75, $100 or more... plus $1 processing fee.
Considering giving a MONTHLY gift... thank you...
Our prayers are with you...

FOR YOUR INFORMATION...
What are the Works of Mercy?
The Corporal and Spiritual Works of Mercy are actions we can perform that extend God's compassion and mercy to those in need. "The works of mercy are charitable actions by which we come to the aid of our neighbor in his spiritual and bodily necessities" (Roman Catholic - Catechism of the Catholic Church, 2447).
THE 7 SPIRITUAL WORKS OF MERCY
Counseling the doubtful
Instructing the ignorant
Admonishing the sinner
Comforting the sorrowful
Forgiving injuries
Bearing wrongs patiently
Praying for the living and the dead
THE 7 CORPORAL WORKS OF MERCY
Feed the hungry
Give Drink to the thirsty
Shelter the homeless
Visit the sick
Visit the prisoners
Bury the dead
Give alms to the poor
What Is Catholic Social Doctrine?
The human person is the clearest reflection of God's presence in the world.
Catholic social teaching is designed to protect and promote the dignity of every person.
It is not a comprehensive policy statement but rather a set of questions that we might consistently ask ourselves as we respond to the world around us.

Ten Principles of Catholic Social Teaching

1. The Principle of Respect for Human Dignity
Human dignity emerges neither from what people accomplish or own, but because we are created in the image and likeness of God. Consequently, every person is worthy of respect simply by virtue of being a human being. People do not lose the right to being treated with respect because of disability, poverty, age, lack of success or race, let alone gain the right to be treated with greater respect because of what they own or accomplish.
---
2. The Principle of Respect for Human Life
An implication of the first principle is that every person, from the moment of conception to natural death has an inherent dignity and a right to life consistent with the dignity that is ours as human beings. The Catholic tradition sees the sacredness of human life as part of any moral vision for a just and good society.
---
3. The Principle of Association
The human person is not only sacred, but also social. We cannot consider a person simply as an isolated individual but as part of a rich tapestry of relationships. When making decisions which impact on the lives of others, we must consider how it impacts on that person's connections with family, friends and the wider community.
---
4. The Principle of Participation
People have a right to shape their own lives and the society in which they live. They should participate in decision processes which impact on their lives and cannot be consider the passive recipients of other people's decisions. We each have a responsibility to be shapers of the kind of world in which we wish to live.
---
5. The Principle of Preferential Option for the Poor and Vulnerable
In a world where we see deepening divisions between rich and poor, the powerful and the powerless, the Catholic tradition reminds us that God stands firmly on the side of the most marginalised members of society. While every person's needs are important, we must consider first and foremost how the lives of the most vulnerable people are impacted or enhanced by decisions we make.
---
6. The Principle of Solidarity
We are our brothers' and sisters' keepers. Learning to practice the virtue of solidarity means learning that 'loving our neighbour' is not, in the words of Pope John Paul II, "a feeling of vague compassion or shallow distress at the misfortunes of so many people. On the contrary, it is a firm and persevering determination to commit oneself to the common good; that is to say, to the good of all and of each individual, because we are all really responsible for all."
---
7. The Principle of Stewardship
We show respect for the Creator by our stewardship of creation. We have a responsibility to care for the world's goods as stewards and trustees, not primarily, let alone merely, as consumers. As people working toward making these principles a reality, good stewardship also means making careful and responsible decisions with the resources entrusted to us.
---
8. The Principle of Subsidiarity
The word subsidiarity comes from the Latin word subsidium which means help, aid or support. The principle of subsidiarity means clearly determining the right amount of help or support that is needed to accomplish a task or to meet an obligation: "not too much" (taking over and doing it for the other: thereby creating learned helplessness or overdependence) and "not too little" (standing back and watching people thrash about, thereby increasing frustration and perhaps hopelessness). The principle might be better summarised as 'no bigger than necessary, no smaller than appropriate'.
---
9. The Principle of Human Equality
Given that every human being is entitled to respect and dignity merely because she/he has been created in the image and likeness of God, it follows that there is a radical equality among all human beings. After all, as George Cladis points out: "competition is alien within God." This principle lies close to the surface in every Australian. We talk of it in terms of giving people a fair go.
---
10. The Principle of Common Good
A community is genuinely healthy when every single person is flourishing. This is not the utilitarian formula of the greatest good for the greatest number, but the moral formula of the greatest good for all, simply on the basis that they are human beings and therefore inherently worthy of respect.




Please support our Movement, Institute of Faith, Family and Workspace with $1, $5, $10, $35, $50, $75, $100 or more... plus $1 processing fee.