The St. Luke Foundation for Haiti is a Haitian-led non-profit organization, providing education, medical care and dignified humanitarian outreach to the poor in Haiti.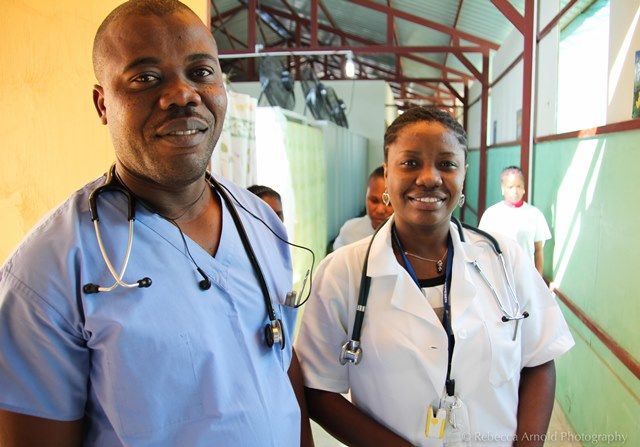 Father Rick Frechette, an American priest and physician who has lived in Haiti nearly thirty years, started the work of the St. Luke mission in collaboration with an inspired group of young Haitian leaders who together saw a different path forward for their country. Today the St. Luke Foundation reaches more than 90,000 people per year through life-giving programs that employ over 1000 Haitian staff. Programs include 32 schools that serve 12,000 students, agriculture, production, job creation, housing, clean water, two women's health clinics and two hospitals.
At the center of these programs is St. Luke's Hospital, founded after the earthquake of January 12, 2010, and now providing care to thousands of patients a month. Our nationwide goal is to raise $500,000 which is enough money to run the hospital for at least half of the year.
Thanks to the support of an anonymous donor, any donation made from now until the end of the year (up to $250,000) will be matched. If $250,000 is raised, and $250,000 is matched the goal will be met!
If donating with a check, please make check payable to
"St. Luke Foundation for Haiti". Checks can be given to me (Nicole Shirilla) or mailed to:
The St Luke Foundation for Haiti
c/o: Terri Frechette-Brainerd
Director of Financial Services
58 Lynn Rd.
Ivoryton, CT 06442
(Please write "Orange County Christmas party" on the memo line to be sure your donation is matched.)
Thanks to generous friends and donors, we have zero stateside overhead, allowing every penny to go to patients, students, outreach, and salaries for our Haitian staff. The St. Luke Foundation is a 501(c)(3 ) tax exempt organization. Your donations are 100% tax deductible. If you are interested in receiving more information about St Luke finances, check out our commitment to transparency at Guidestar.org or email us at info@stlukehaiti.org.
Thank you for considering the St Luke mission as you consider causes that you may wish to support this year.
God bless you!
sincerely,
nicole