PLEASE HELP OUR CHILDREN
SERIOUS and URGENT ACTION is REQUIRED
Current estimates are that in the Philippines there are up to one million abandoned children, from new born babies and up to 13 years of age living on the streets. Unofficial estimates put this figure as high as 10 million.
Every day dozens are dying from starvation, become the victims of paedophiles, are sold into brothels and slavery, or murdered.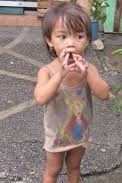 At the age of three, chances are that this little girl will have already become the victim of a sexual predator.
He most likely was a foreigner visiting the Philippines specifically for this purpose.
At the age of seven there is a very high chance she will be sold into a brothel, or trafficked into a foreign country as a child labourer or as a sex slave.
She will not know where her older brothers and sisters are because they were already taken or killed, She is alone and frightened.
Maybe as you read this, she and hundreds of others like her are already dead. As Christian we have a real responsibility to be the "hands and feet of Christ" to help take her off the streets and place her into a safe, loving and caring shelter.
Our mission and vision received from the Lord is to provide safe shelter, food, clothing, education and skills training for as many of these children as we can, and most importantly teach the Gospel of God's grace. We need your prayers and support urgently.
"Whoever receives one child like this in My name receives Me; and whoever receives Me does not receive Me, but Him who sent Me." Mark 9:37
With sectors of the Government and legal support we are currently establishing an NGO Not for Profit Foundation in the Philippines. To complete this process we need to raise an additional $20,000 by December. Our fundraising goal is $300,000.
Please give this your prayerful consideration, donate as much or as little as you are able, and invite all your friends, family, church family, corporations and clubs to do the same. Please help us spread the word throughout Australia, New Zealand, Europe, The United Kingdom and the United States.
Any questions you may have, please feel free to email at johncutrupi@gmail.com
With heartfelt thanks
Your brothers and sisters in Christ,
John Cutrupi and the team.